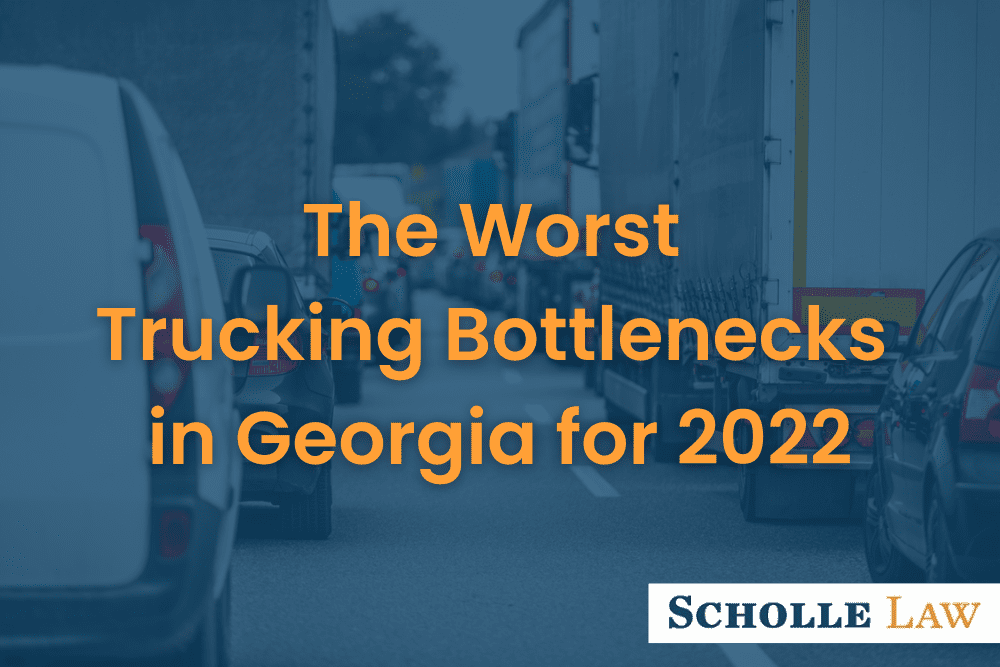 "Rush hour" is typically defined as the morning and afternoon periods when people are driving to or from work. In Atlanta, it often seems rush hour never ends. There are a variety of reasons why traffic in the metro Atlanta area is heavy more often than not, from poor infrastructure to car accidents to slow drivers.
One of the most common – and scary – causes of heavy traffic in our area is sharing the road with semi-trucks. Because Atlanta is an economic hub, tractor trailers regularly dominate the highways and local roads. While these trucks are vital to the economy (as we have seen through the recent global shipping crisis), they have a tendency to clog up traffic, especially near highway interchanges and intersections.
The American Transportation Research Institute releases an annual list of the 100 worst truck bottlenecks in the nation, and Georgia is home to nine of them in 2022. Bottlenecks slow down traffic and can lead to collisions. Unfortunately, collisions with semi-trucks often result is catastrophic injury – or even death.
If you have been involved in a wreck with a tractor trailer, we can help. The Atlanta truck accident lawyers at Scholle Law have decades of experience representing victims and their families to help them get the compensation they deserve. Give us a call or contact us online for a free, no-obligation consultation with a Georgia semi-truck accident lawyer today.
What Is a Truck Bottleneck?
The term "bottleneck" is used to describe any localized traffic flow constriction. It is considered a type of congestion since speeds are heavily restricted due to traffic. According to the Federal Highway Administration, there are six main causes of congestion:
Poorly functioning traffic signals
Traffic incidents
Work zones
Bad weather
Special events
Bottlenecks, or limited road capacity
Further, there are five elements that differentiate a bottleneck from general congestion:
Traffic is backed up "upstream" from the bottleneck, but traffic is free flowing elsewhere
There is a specific point on the road that is causing the backup
After you pass this point, traffic is free flowing
The bottleneck congestion is recurring
There is more traffic than the area can handle
In short, if there is a point on the road where traffic always slows and causes backups, but traffic is relatively clear past this point, then that point is considered a bottleneck. Heavy traffic that does not meet these criteria is considered general congestion.
Where Are Georgia's Main Bottlenecks?
Out of the top 100 worst truck bottlenecks identified by the American Transportation Research Institute (ATRI), Georgia is home to nine of them. In fact, the fourth- and fifth-worst bottlenecks in the country are in Atlanta! These bottlenecks exist at I-285 at I-85 North and I-20 at I-285 West.
The bottleneck at I-285 at I-85 North is between Embry Hills and Doraville. The average speed at this interchange is about 30 miles per hour when traffic is the heaviest, typically from 2 p.m. and 6 p.m. As anyone who has driven in this area will tell you, it often feels like being able to reach even 30 miles per hour during rush hour is a luxury.
---
The second Atlanta bottleneck in the top 10 worst in the country is at I-20 at I-285 West near Fairburn Heights and Oakcliff. The average speed here during heavy traffic is about 37 miles per hour. While speeds typically do not get as slow as they do at the I-85 bottleneck, police are known to heavily patrol this area, which adds to slow traffic speeds.

Videos courtesy of American Transportation Research Institute
---
As you may have noticed, both of these bottlenecks are located at highway interchanges with the I-285 Perimeter. In fact, five of the nine nationally ranked worst bottlenecks in Georgia involve interchanges at the Perimeter. These include:
Atlanta: I-285 at I-85 North (ranked 4th-worst in the nation)
Atlanta: I-20 at I-285 West (ranked 5)
Atlanta: I-75 at I-285 North (ranked 14)
Atlanta: I-285 at SR 400 (ranked 18)
Atlanta: I-20 at I-285 East (ranked 21)
The other four Georgia bottlenecks listed include:
McDonough: I-75 (ranked 12)
Atlanta: I-20 at I-75/I-85 (ranked 45)
Atlanta: I-75 at I-675 (ranked 52)
Atlanta: I-75 at I-85 (ranked 62)
What Should I Do if I Enter Bottleneck Traffic?
One of the biggest downsides of living in Atlanta is the lack of expansive public transportation. This means most of us to drive or otherwise ride in a car to and from work, contributing to heavy traffic and bottlenecks. Since congestion and truck bottlenecks are an ever-present part of Atlanta traffic, knowing how to drive safely on busy highways is crucial.
The most important part of driving safely is paying attention. Minimize distractions, including using your cellphone and fiddling with the radio. Be patient and remember other drivers are also just trying to get where they are going. Atlanta drivers are notoriously aggressive, so defensive driving is your safest option. Plan ahead for delays, especially if this is a route you take often.
If possible, take alternate routes to avoid bottlenecks altogether. Taking surface roads may take a bit longer, but it can be much safer since you should not have to deal with heavy traffic.
Speak to an Atlanta Truck Accident Lawyer Today
Driving in Atlanta is stressful, to say the very least. With congestion and truck bottlenecks all over the city, getting home can sometimes seem like an impossible task. No matter how safely you drive in heavy traffic, you cannot control the actions of other drivers. This is especially true of semi-truck drivers, who have to maneuver spaces that are barely big enough for passenger vehicles, much less a 50-foot trailer.
If you or a family member is involved in a collision with a tractor-trailer near a bottleneck, the consequences can be devastating. Your vehicle may be destroyed, and the risk of severe injuries is exponentially greater than in a wreck with a passenger vehicle.
At Scholle Law, our Decatur truck accident attorneys have the skills and experience to help you get the compensation you deserve. After a wreck, the trucking company and/or insurance company will do all they can to deny any responsibility – and they may hire a team of lawyers to prove it. Our attorneys have faced these challenges and know what it takes to get a favorable outcome in your case.
Give us a call or contact us online for a free, no-obligation consultation with a Georgia semi-truck accident lawyer today.