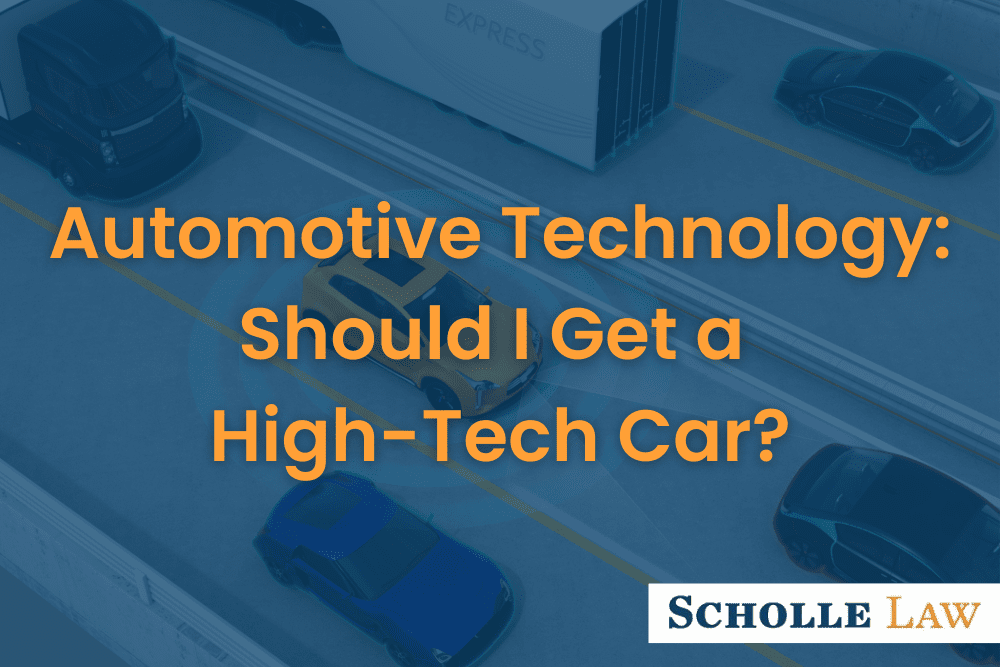 If you have purchased, leased, or ridden in a car made in the past decade or two, you have probably noticed the wealth of technology available in modern vehicles. Even the most basic models now include tools like reversing cameras, infotainment consoles, lane departure warning systems, and more.
Unfortunately, this automotive technology does not always work like it should. Thanks to the complicated relationship between automakers and the companies that make the technology used in vehicles, faulty systems are becoming more common. In fact, class action lawsuits have been filed against various car manufacturers for the failure of infotainment systems, reversing cameras, and other technology that is supposed to make driving safer and more enjoyable.
If you are injured in a wreck caused by a faulty vehicle system, we can help. The Gwinnett County car accident attorneys at Scholle Law have decades of experience taking on insurance companies and car manufacturers to get our clients the compensation they deserve.
Call us today at (866) 592-1296 or contact us online to speak with a car accident lawyer in Lawrenceville. Your initial consultation is always free.
Why Automakers Are Struggling with Technology
Since the late 1990s, car manufacturers have looked for ways to incorporate the latest tools and technology into their vehicles. After starting with basic features like reversing cameras and Bluetooth connectivity at the beginning of the millennium, automakers have raced to include the newest and greatest technology in new cars.
Unfortunately, the advances in technology have made keeping up a difficult proposition for automakers. Drivers expect their new cars to come with features like built-in GPS and infotainment systems that connect to their smartphones, plus driver-assist technology like lane departure warning, collision warnings, partially automated driving, and more. This is not always the case.
The issue comes from the timeline of developing a new vehicle. Three to five years is typically required to bring a new car from concept to production. In that time, countless tests are conducted for safety, performance, and other factors. Technology like infotainment systems may be tested years before the vehicle goes into production, which means by the time you get your new car, some of the systems may already be outdated.
To add to the problem, software developers for the vehicle may struggle to keep up with constant updates – including "patches" (small software fixes) to meet cybersecurity standards promoted by the National Highway Traffic Safety Administration. Beyond cybersecurity, automakers may also struggle with keeping up with smartphone updates. Recent issues with Apple CarPlay and Android Auto have highlighted the disconnect between technology creators and automakers.
Is Automotive Technology Safe?

Courtesy of National Windscreens
From lane assist systems to partial (or full) self-driving cars, automotive technology has the power to impress – and terrify. In fact, a recent AAA study showed that 54 percent of polled drivers are afraid to ride in a self-driving vehicle. Perhaps this hesitancy is warranted. In California, a man who caused a fatal wreck while he was using Tesla's Autopilot function has been charged with two counts of manslaughter.
While the widespread use of true self-driving cars may still be a science-fiction dream, other automotive technology has been shown to greatly increase safety for drivers and others on the road. Some of the most common safety systems in new cars include:
Forward/rear collision warning and automatic braking
Lane departure warning and lane keeping assistance
Rear cross traffic warning and automatic braking
Blind spot warning and intervention
Adaptive cruise control
Automatic high beams
Backup cameras
Automatic crash notification (i.e., OnStar)
According to a study conducted by LexisNexis Risk Solutions, vehicles with Advanced Driver Assistance Systems (ADAS) are 27 percent less likely to be involved in a wreck leading to bodily injury and 19 percent less likely to be in a property damage-only accident.
When it comes to infotainment consoles and other "creature comfort" technological features in new cars, the greatest threat to safety is simply being distracted. Complicated interfaces can cause drivers to take their eyes off the road to find that perfect song or podcast. When these dashboard displays fail, drivers may turn their focus to fixing the problem – even if they are driving at highway speeds.
Is It Worth Buying a Car with Automotive Technology?
A major downside of driver assist technology can be seen in the cost of ownership. In the current economic climate, vehicles equipped with ADAS are often much more expensive than their non-equipped counterparts. In addition, the cost of repairing vehicles with ADAS can be much more expensive than repairs on a vehicle without technology.
On top of these costs, the global shortage of semiconductors used in car computers has made ADAS-equipped cars more difficult to find – and more expensive. While we will likely see ADAS in more and more cars in the coming years, the cost of current ADAS-equipped vehicles can be prohibitive for many consumers, even though they are much safer.
Because of the higher costs of ownership, car insurance companies often charge more to cover vehicles with ADAS, even though such systems have been shown to reduce the risk of being in a collision. In fact, many insurers say there is no proof that such systems improve safety. As such, most do not offer any kind of discounts for ADAS-equipped vehicles.
Despite what insurance providers say, driver assist systems have been proven to increase safety for drivers, pedestrians, and others who share the road. In short, if you can afford an ADAS-equipped vehicle, most experts recommend buying one. However, because there are issues that can arise with the software and the systems themselves, it is crucial drivers always pay attention to the road, no matter what technology is in place.
When it comes to infotainment consoles and other non-ADAS technology, the question you should ask is, "Will this distract me from driving?" If your honest answer is "yes," it may be best to find a vehicle without a dashboard display (or at least one with a minimal display).
Speak with a Gwinnett County Car Accident Lawyer Today
The technology used in modern vehicles is always changing; in most cases, the changes are for the better. Even so, a single software malfunction can have catastrophic consequences. If you are involved in a wreck caused by a vehicle system failure, either in your own car or another driver's, you may be entitled to compensation.
Automakers will do everything they can to avoid paying victims who have been injured by a malfunctioning car. At Scholle Law, our lawyers know all the strategies manufacturers and insurance companies use to blame someone else for the wreck. We can aggressively negotiate with the at-fault party for the compensation you are owed, and if they refuse to pay, our attorneys have the litigation experience to fight for a positive outcome in your case.
Call us today at (866) 592-1296 or contact us online to speak with a Lawrenceville car accident lawyer. Your initial consultation is always free.